A private terrace is an important part of any right penthouse. Everyone who only plans to buy a penthouse or is already its lucky owner will have to solve the task of arranging a terrace. How to make these thirty square meters of open-air space cozy and warm in order to make your friends and loved ones to keep staying there more and more. Consider our options that can be applied to your terrace.
Equipping an open-air cinema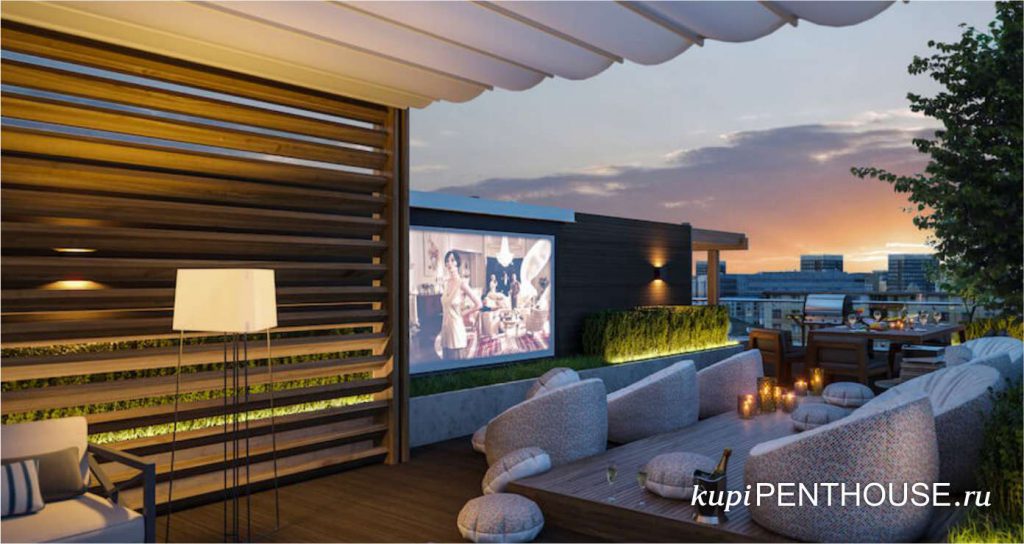 Open an open-air cinema for you and your friends on the penthouse terrace. Organize a noisy party, stock up on popcorn, drinks and sit comfortably in the armchairs. Click the remote and watch a game of your favorite football team, a new season of the long-awaited series or a fresh Hollywood blockbuster on the screen of your open-air cinema. When your friends are gone, continue with a romantic evening with champagne and viewing photos from a recent trip to Paris. It is better not to take money for tickets from friends and relatives, they may not understand this.
You can use several solutions to arrange an open-air cinema. The simplest way is to install a white screen and connect a projector. You can take a classic projector, but in case of rain you will have to bring it back home. There are special street projectors that can work in wet weather and rain.
Opening summer kitchen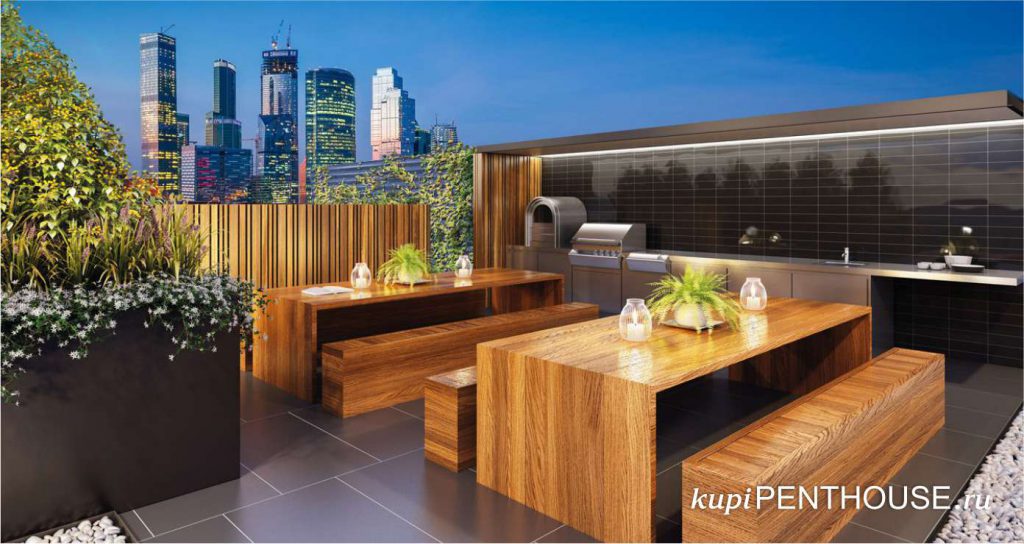 It is possible to arrange summer kitchen practically on any terrace. There is only the sky above, so no one can prevent grilling juicy rib eye roast or salmon steak. Well, or grilling vegetables and champignons, if you are a vegetarian.
The size and completeness of the kitchen depends on the size of your terrace and your passion for cooking. The simplest version is about setting a grill and a small table for cutting. The maximum version is about equipping a full kitchen with a turbo grill, sink, work area and a tent. The «summer» definition is conditional, because you can use it in winter as well. Cook your firebrand kebab on the flame for your favorite friends right on the terrace of your penthouse in the center of Moscow. While you will be cooking, they will be drinking wine, chatting and admiring the views of the night city.
Installing a Jacuzzi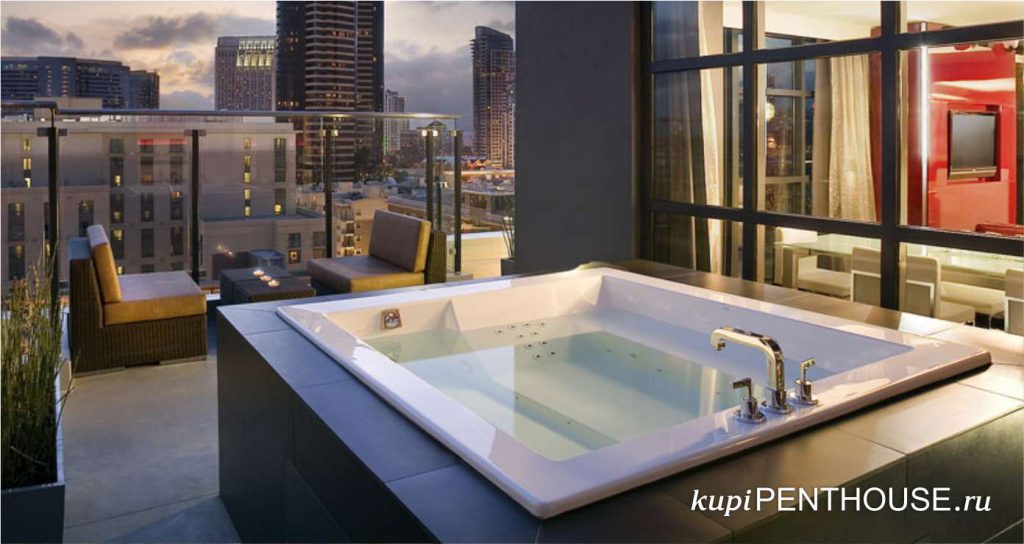 A skeptical buyer of a penthouse can say that there are so few warm days in Moscow - and he will be right. But hot water will allow you to swim on the terrace not only in summer, but in spring and even in late autumn. Your small outdoor spa pool can become the epicenter of both noisy parties with friends, and romantic quiet evenings with a loved one. Bubbles of champagne, foam for baths with fir aroma, gurgling water and panoramic views of Moscow will turn any head.
To quickly arrange your own spa on the terrace of the penthouse, you can use the ground portable Jacuzzi. This spa pool is finished with wood outside, and is easily installed directly on the floor of a terrace. Water connection is not difficult. The Jacuzzi can be filled even with a hose. The Jacuzzi has a lot of options for different massage and iridescent LED lighting. When you move to a larger penthouse, you will be able to take your portable Jacuzzi with you.
Arranging personal garden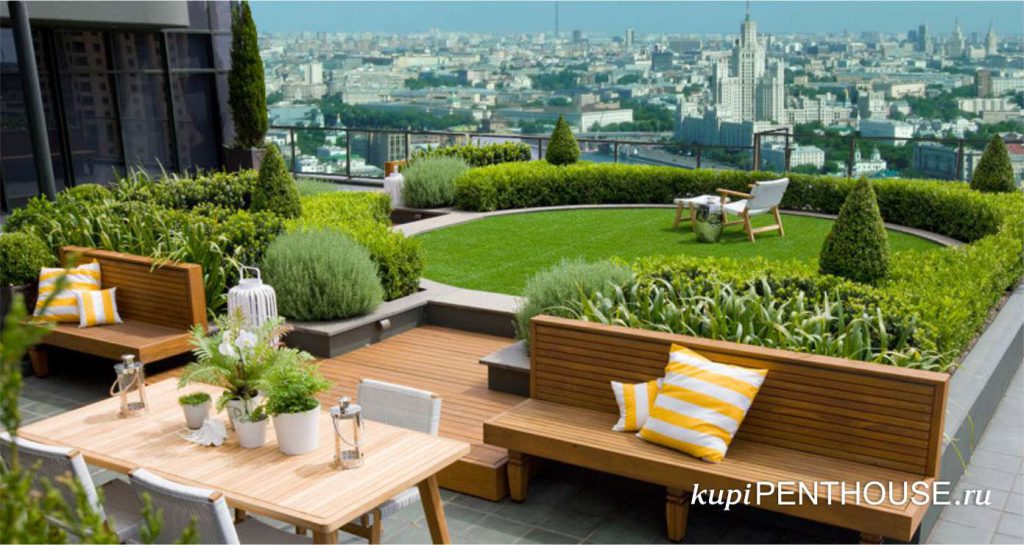 Although Tverskaya street has been planted with trees, it is still definitely not enough greenery in the capital. Penthouses are built of glass and concrete, therefore, striving for being closer to nature, penthouse owners can turn their terrace into a green garden.
If the area of ​​a terrace is 100-200 meters, an owner together with a designer chooses the type of lawn and trees in large tubs. The process of arranging square meters on the roof is the same with creating a lawn in the courtyard of a country house. The only difference is that trees and lawns have to be lifted by an elevator.
Vertical landscaping which is allowed on the walls will be suitable for small terraces. Designers advise to arrange small cedar or other ornamental plants in pots. Let's add a couple of sun loungers, lanterns with candles along the perimeter, an arbor with a cozy floor lamp and plaids – and it is done. A piece of nature emerges under your windows right in the center of Moscow.
Installing a wood-burning fireplace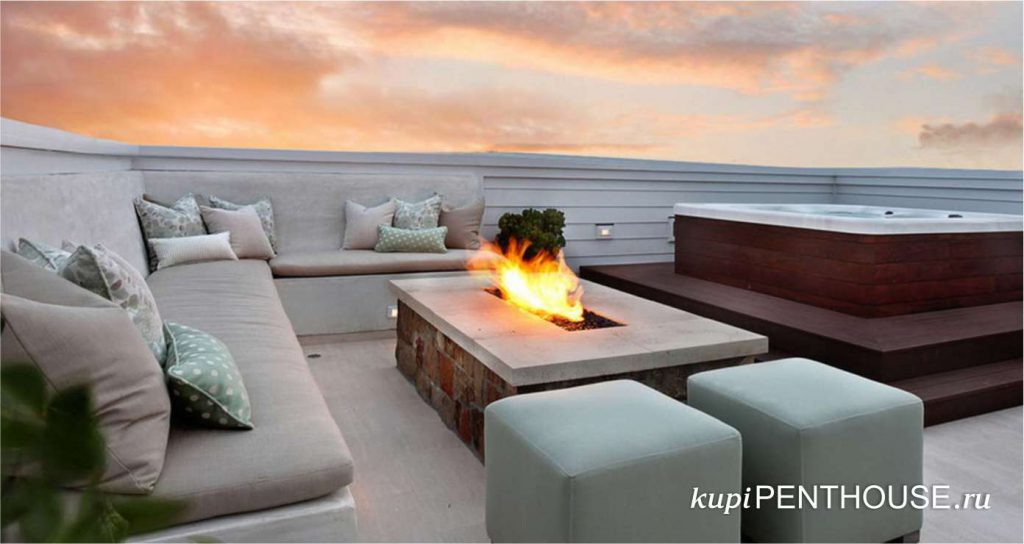 It is said that a person can endlessly watch the running water, the burning fire and an ATM counting money. In this list, we are interested in fire. In many penthouses from our catalog, an owner can install a wood-burning fireplace to spend a cold winter day sitting in a rocking chair and drinking grog. As if you are not in the center of Moscow, but somewhere in the silence of Rublyovka. But how about the idea of installing the second fireplace on a terrace?
There are many ideas for implementation. If the architecture of a terrace allows, you can install a wood-burning fireplace, or equip a small spirit or gas fireplace. Then, add an angular sofa, a few puffs or seat-bags around this center to arrange a great place for conversations in the company of friends and relatives.
If you are inspired by the ideas and decide to buy a penthouse with a terrace, contact the expert of kupipenthouse.ru project by phone + 7 (495) 320-95-50. He or she will pick up you 5-6 options within 30 minutes absolutely free of charge, and, if you want, will appoint previews for the following days. If you do not plan to withdraw money from the business, our mortgage broker will approve a mortgage at 10.5% per annum. You now have many ideas how to equip your future terrace - it remains to implement them.